Did you know that Andy Warhol made some other kind of artwork than that '4 images in different color scheme' kinda thing?
In the beginning of his art career, Warhol was a commercial graphic designer for retail. For this job, he created fun, whimsical artwork, particularly for the Christmas holidays.
This image here is of one of his designs. We're going to use it today as a base to create our own free Christmas greeting cards.
Craft Essentials For This XMAS Card
To Make your own Andy Warhol Christmas card, this is what you'll need:
6-7 pieces of gift wrapping paper
an equal number of small pieces of ribbons that match the paper
one or more curly, or small patterned stamps which can be used to devise a sled
Sharpie pen
one star stamp with silver ink pad
colored cardstock for the base of the card
piece of white, silver or gold for the sled
dye ink pads that complement the background color of the card stock
color markers or watercolor pencils to tie it all together
paper glue & scissors
patience to put it all together.
Step-by-step XMAS Card Making Tutorial
Make a thin sketch of the sled and the packages
Cut out the sled body and the presents to size
Cut off the ribbon bits and glue them onto the presents individually
Use the small patterned or larger curly stamps to device the sled's bottom frame
You may need the sharpie or color markers to finish off the design
Voila.
Multiply!

I would make 10 versions of this design. The 10th version will no doubt look better than the first.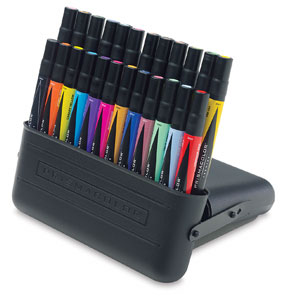 Get The Right Markers for Your Work
Upcycle Bad Design Versions
Never throw away old art 'n' craft projects that did not work out exactly as planned. Instead, put them in a box, to be cut up later and be used in other projects. It's an efficient way of crafting.
Cut portions of these cards WILL make great Christmas gift name tags, place holders on the Christmas table, embellishments for more XMAS greeting cards, personalization of your note book giveaways, ….. great key tags, or coffee cup cuff or otherwise accents when laminated.
Professional artists and advanced art students use top color markers. I mean …


Prismacolor Premier Double Ended :: 24 Colored Art Markers
.

Tip: Pick the right colors to be aligned with what's hip ~ Check the Craft :: Design :: Color Planner.