How to Wear a Triangle Shawl – 7 Ways to Wrap Your Knitwear.
I just finished knitting, and wonder how to wear your new triangle shawl? You're not alone. Lots of knitters and crocheters can be a tat shy. Well, let's come out in the open with your beautiful new piece and let me share with you how to show it off! In truth, triangle shawls are actually easy to style. And you can change things around and wear your scarf differently each day.
1. The Oversized Cowl Look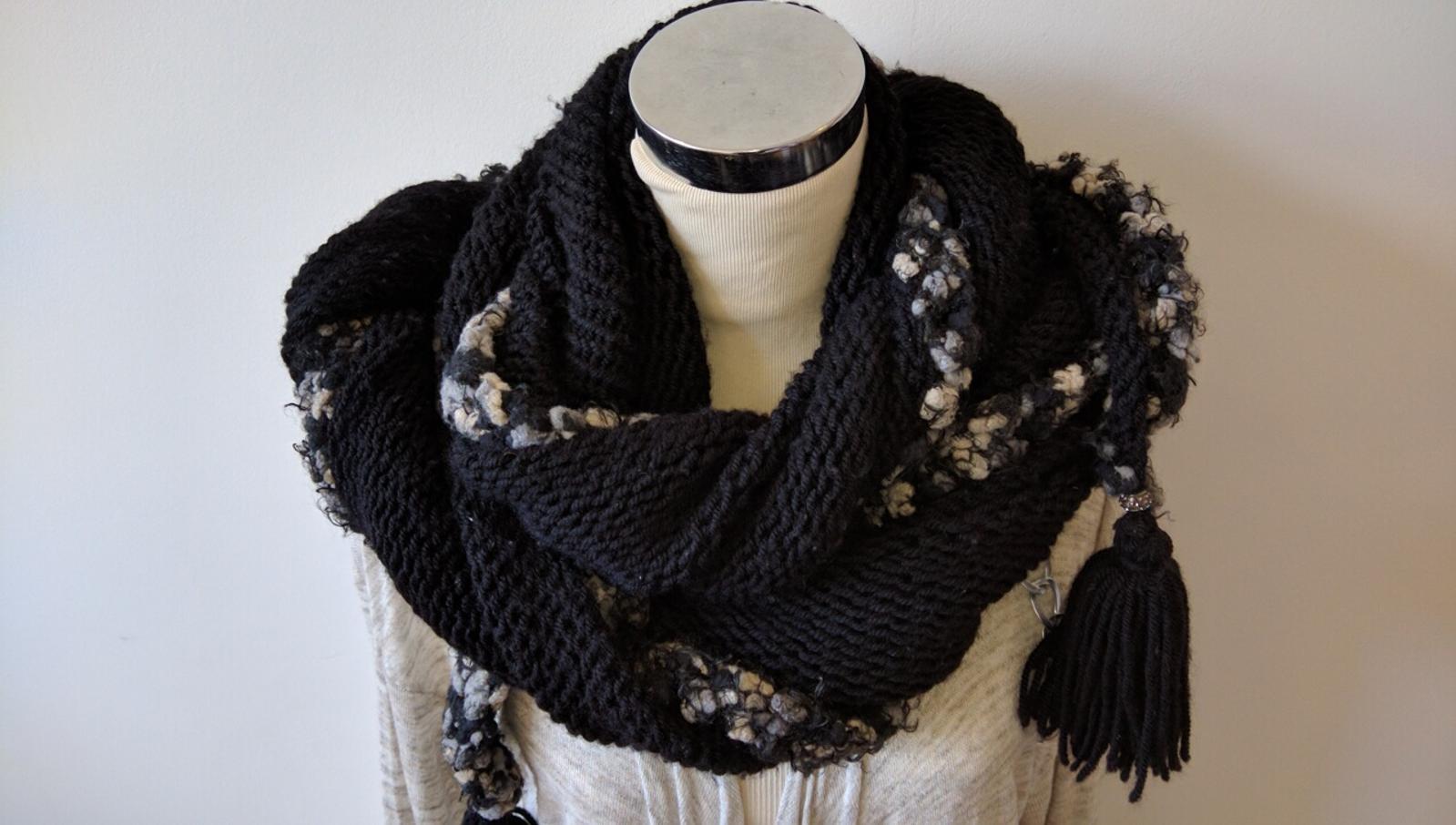 This drape gives all the limelight and the warmth to your neck. Get the look by using a triangle scarf with a trim. Then loosely twist the shawl as you loop it around your neck/shoulders, twice, to show off those cool edges. Style your tassels at the front.
Like the scarf? Get the Triangle Scarf Knitting Pattern here:
2. The Classy Back Drape
Nothing simpler then your shawl on your shoulders and over your back, the thin points tied across the front? This way, your shawl doubles as a short cardigan. My favorite way to wear a scarf in summer to get some coverage over my shoulders as I go to town in a sun dress.
3. The Cardigan
A variant of the back drape is the faux cardigan-look. Simply create it by letting the thin ends hang loose. See? Now it becomes like a longer cardigan – particularly with this oversized triangle shawl pattern.
4. The Hand-kerchief / Faux Sweater Look
This cowboy handkerchief style way of wearing your triangle shawl shows off your knitting skills and shawl design.
As you can tell, I made this scarf in several variations, one of which featured a giant gothic cross appliqué (which is included in the above pattern btw).
Wear the scarf over a shirt or sweater to create that handkerchief look. Or, like in the photo, wear it under a jeans jacket like a faux-sweater.
How to get the look is easy: wrap your shawl with the point to the front covering your chest. Tie the points at the back of your neck, and if you want, you can bring them back around to the front.
5. The On One Side-Look
This one is a variation on the centered style. Arrange the shawl so that the point rests down one of your shoulders. Wrap the edges of the shawl around your shoulders on the opposite side. If you're having problems keeping the shawl in place, tuck the ends under the wrap or use a shawl pin.
6. The Faux Hoodie
7. Pin-styled Shawl … and other ideas
There are more styles, but I ran out of pictures to show you. On style that I like the look of – but which I never do as I still don't have one yet – is to style your triangle scarf in place with a shawl pin. A pin looks instantly more elegant and luxurious. I guess it is about time that I get or make myself a beautiful shawl pin!!!! What's also nice about a pin is that it holds your triangle scarf in place exactly how you wish to style it. And with certain kinds of yarn, it keeps it from slipping.
Drape your knit triangle shawl in a way you feel gorgeous! Because you are!
Much love, Rose. x
ps. Here's the link to this easy oversized triangle shawl knitting pattern again. All of the pictures are of the exact same scarf, worn and/or embellished differently. That's it!