I know: with so many Halloween costume ideas, decorations, recipes and crafts, you are bound to be planning a Halloween party! Here are some Halloween party invitations and other party printables for you.
Gorgeous Halloween Party Invitations

Don't you just love this Halloween kids or family party card? The Tiny Print party invites are some of my favorites. Because they're beautiful with original designs, and their paper is of high quality. Plus I never hear anything but goods regarding their personal customer service.
These are just some of the cards that I thought you might like for your family/kids party. However, there are many more fabulous party invitation cards, often in classic Halloween colors of orange, ivory, black, green or purple. All have a contemporary twist. (Click the image with the hanging spiders, on the bottom right, for an overview page).
Have a look now to take advantage from my sponsors Tiny Prints' offer, which ends Dec 31, 2016: Enjoy 20% Off Your (entire) Tiny Prints Order. And if you call in this last week of September, you'll get even 25% discount!
To get a further discount, order your personalized Holiday Cards now too.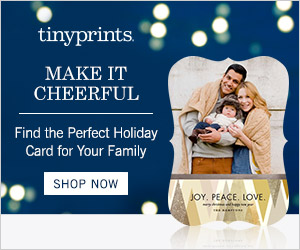 Now that I am alerting you to discounts and freebies: If you order now, you'll not only be in time with sending out your Christmas Holiday cards this year, but you can also take advantage from this sponsor's second offer that also ends in a few days for 25% off. Wow, that is going to be a great savings.
Tiny Prints allows you to customize and personalize the most gorgeous cards with your own photos and their photo stylists are real professionals who care about the results. If you miss the deadline, do not despair. You will still get a discount on all your cards if you use my links here but the discount is less steep.
Halloween Party FREEBIE
Talking about orange, green, ivory … After you have purchased your party invitations, come back to this blog, as I have a party paper freebie I want to show you: Halloween party printables.
Print them onto thin cardboard and use the circles as a Halloween garland, as cupcake toppers, as treat bag stickers, as coasters, or whatever you fancy to do with them at your Halloween party. There are also other printable included in this download pack: such as a welcome sign and drinking cup or candy wraps.
Note that they are not made by me.
Image credit & High-res Download: catchmyparty.com