Fabric Hearts in Mason Jars
Best Mason Jar Valentine Gifts #1:
By Moorea Seal
Valentines Heart Snow Globe
Best Mason Jar Valentine Gifts #2:
I saw dye-cut hearts like this at Target a few years ago. Never thought of putting them in a snow globe for Valentine's Day. What an incredibly original idea. I know someone who will love a Valentine's Day snow globe!
Crochet Pattern for the Recycling, No-waste loving Gal
Best Mason Jar Valentine Gifts #3
Scalloped Crochet Pattern for Mason Jars or ordinary recycled marmalade jars.
Love Potion #9 – filled Mason Jar Valentines Gifts
Best Mason Jar Valentine Gifts #4
A sweet idea.
Mason Jar Valentine Cards
Best Mason Jar Valentine Gifts #5
What 's excellent here is that it's made with 100% creativity – no candy involved – and still sweet!
Glitter Ombre Mason Jar Candle
Gift #6
Valentine Heart-Painted Mason Jars with Flowers
Gifts #7
For cute, sweet and calorie-free Valentines Gifts.
Simple and Sweet Mason Jars
Milk-white painted mason jars are wrapped with washi tape or bakers twine and presented as a Valentines Display. Simple, Sweet & Festive. Makes great gift, for a neighbor or yourself.
Gift #8
Secret Message in a Bottle – Valentines Surprise Gift
Gift #9
Very original way of passing on the message of love. Game pieces converted into secret message carries. 2 thumbs up! I wanna make it. Imagine the letters would make up a sentence like: will you marry me?! OK. Express any feelings you like. You could give it to your sister with 'Hey buddy, I so miss you!'
Felt Hearts Rainbow in Mason Jars for Valentines Day Décor
Best Mason Jar Valentine Gifts #10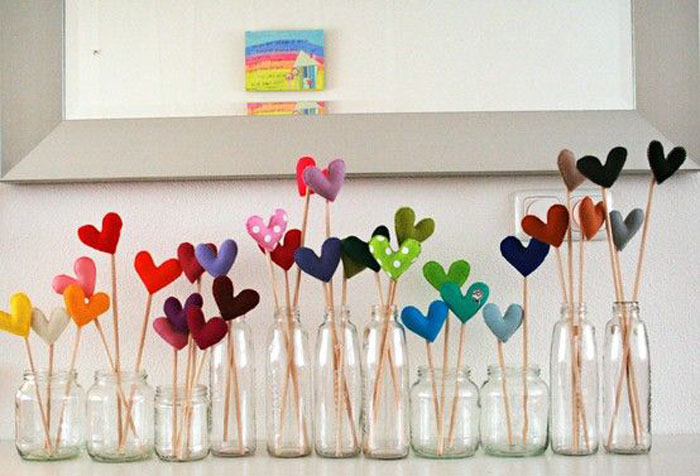 Smores-filled Jars
Best Gifts #11
There's nobody I love s'more than you!